Making money in the music industry isn't always as simple as you might think. And we get it: as an artist, what you want to focus on is doing what you love and creating more art. But one easy way to monetise your career is by setting up a music merchandising strategy.
Coming up with one of those isn't rocket science, and you could get a good sense of what's needed, simply by finishing this short article. So tag along and we'll teach you everything you need to know about setting up a successful merch strategy in minutes.
What is a good music merch strategy?
To really set your merch strategy apart from other artists, you'll need to take a few essentials into consideration. Figuring out the bare minimum of getting started requires you to answer the following questions:
What (type of) products will you sell?
Who, exactly, will you be selling your merch to?
How do you align merchandise to your brand as an artist?
What's the best way to optimise your merch strategy?
Let's quickly run you through each of these important areas of a successful merch strategy, so you can hit the ground running.
Picking the right product to sell
When it comes to merch types, you've got plenty of options to choose from. Whether you choose to sell vinyl, hoodies, bracelets, tote bags, or t-shirts is completely up to you. Picking the right product means taking things into account like:
The quality of the available product types
What kind of profit margins you can expect
What shipping costs will be
Whether this product type suits the artwork you plan to use
Apart from the above, you'll also need to think about the audience you're serving: your loyal fanbase. After all, they're going to be the ones to wear these hoodies and sweatshirts you're creating. They'll be the ones to put your artwork up on their walls and drink their morning coffees from your latest drinkware merch.
P.s. when it comes to apparel quality, we strongly recommend all things Stanley/Stella. Go check out what's available in our product catalog.
Knowing your fanbase
It's a well-known acronym in the music industry: KYF, short for 'know your fans'. Massively important when it comes to setting up a good merch strategy, since your fans will be the ones partying with their money for your merchandise.
If you know your fanbase well, you'll no doubt have figured out which types of merchandise and which visual designs will resonate with them most. Things like the genre of music you're making and the age and demographics of your fanbase are important factors to take into consideration.
An example of demographic research for your merch strategy
Still in the dark about the specifics of your fanbase, their unique wishes and demands? Start with some good old audience research, before mapping out your merch strategy.
Developing a consistent artist brand identity
At its core, artist branding means you take the energy of the art or music you produce and pour that into a consistent visual style and identity. Consistency, here, is key to a successful artist brand.
One way to ensure consistency is by defining your artist brand in brand identity guidelines: try to clearly formulate which message your artist brand should convey, and put together a visual style guide, including examples.
Once you've figured out what type of products to sell, to whom you're selling, and what your brand identity should be, you can start shipping your first merch.
This doesn't mean your work is done, however. With your first merch campaign, you'll also have set up an initial feedback loop that'll help improve your merch strategy as it grows.
Optimizing your strategy with regular iterations
If your first merch campaign is a huge success, good for you, you were lucky enough to hit that magic sweet spot on your first try. Not everyone will be as successful immediately.
By regularly experimenting with new artwork, product types and merch moments, you'll be able to optimize your strategy. Each iteration will bring you closer to the optimal merch strategy.
After all, things like sales numbers and fan reviews will provide you with excellent feedback on what works and what doesn't. So keep trying out new merch ideas and see what sticks.
What do you need to get started?
When it comes to setting up your first successful merch strategy, you'll only need a couple of things and you can be on your way:
Branded artwork, illustrations or designs
A production and fulfilment partner
Strategic marketing plan for promotional purposes
To some, this may seem like a whole lot. But you can literally have your first merch campaign up and running within minutes if you play your cards right. Let's run you through the necessary steps.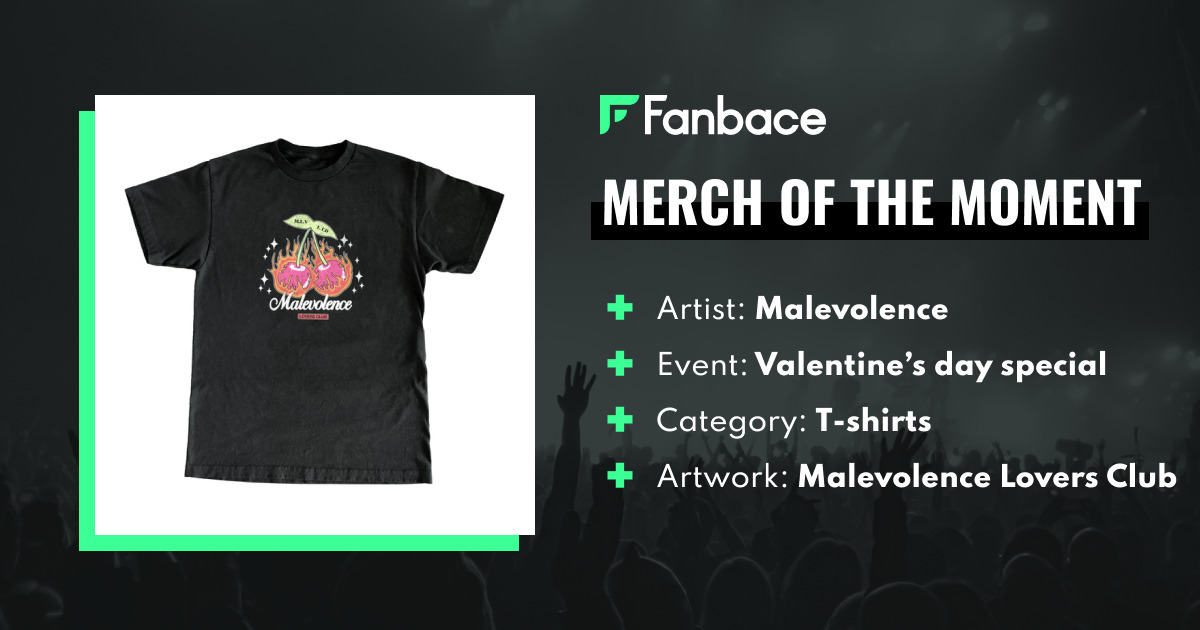 Visually appealing artwork
The possibilities for creating merchandise to go with your artist brand are quite literally endless. This isn't to say that you can't get started today with what you already have.
Think about it. Your band probably already has a logo. Every album or EP you've ever released came with a cover image. And each gig you've played at came with a visually appealing poster to announce it.
Use those artworks, illustrations and designs to get started selling your first merch today.
A merch production and fulfilment partner
You've picked the designs you'd like to see featured on your first merchandise, so what's next?
Printing your chosen product types with these artworks can be done without much hassle. Next to printing the merch, some production companies will also be able to take care of fulfilment for you.
What's important to bear in mind when picking the right merch production partner is the following:
Can they take care of both production and fulfilment?
How easy is it to upload your artworks and designs?
Do they offer high-quality, sustainable product types?
Will they be able to ship to the countries where your fanbase is located?
Will this shipping be made possible at attractive rates?
Do they also offer print on demand services, so you only print what you've sold?
Shameless plug: using Fanbace's Merch on Demand services, you'll get a favourable response to every single one of these questions. Sign up for a free account and you'll literally be shipping merch in a matter of minutes, without risk, stock, or limits.
Merch marketing and promotion strategy
What use is beautifully designed music merchandise without you getting it out there and sharing it with your loyal fans?
The first thing to do is figuring out which channels work best for you. This means you need to know where your audience can be found, and adapt your marketing messages to these channels. Whether this be Instagram, Facebook, Bandcamp or at actual real-life events.
Also, you might need to set up an online store on Shopify or some other e-commerce platform. No website? No problem either. With Fanbace, you can generate Merch Links that work like a custom checkout page for every piece of merch you create.
It's also a good merch marketing strategy to link your campaigns to specific seasonal or cultural events. Here's an example of how English heavy metal band Malevolence promoted a special Valentine's day merch campaign on Instagram.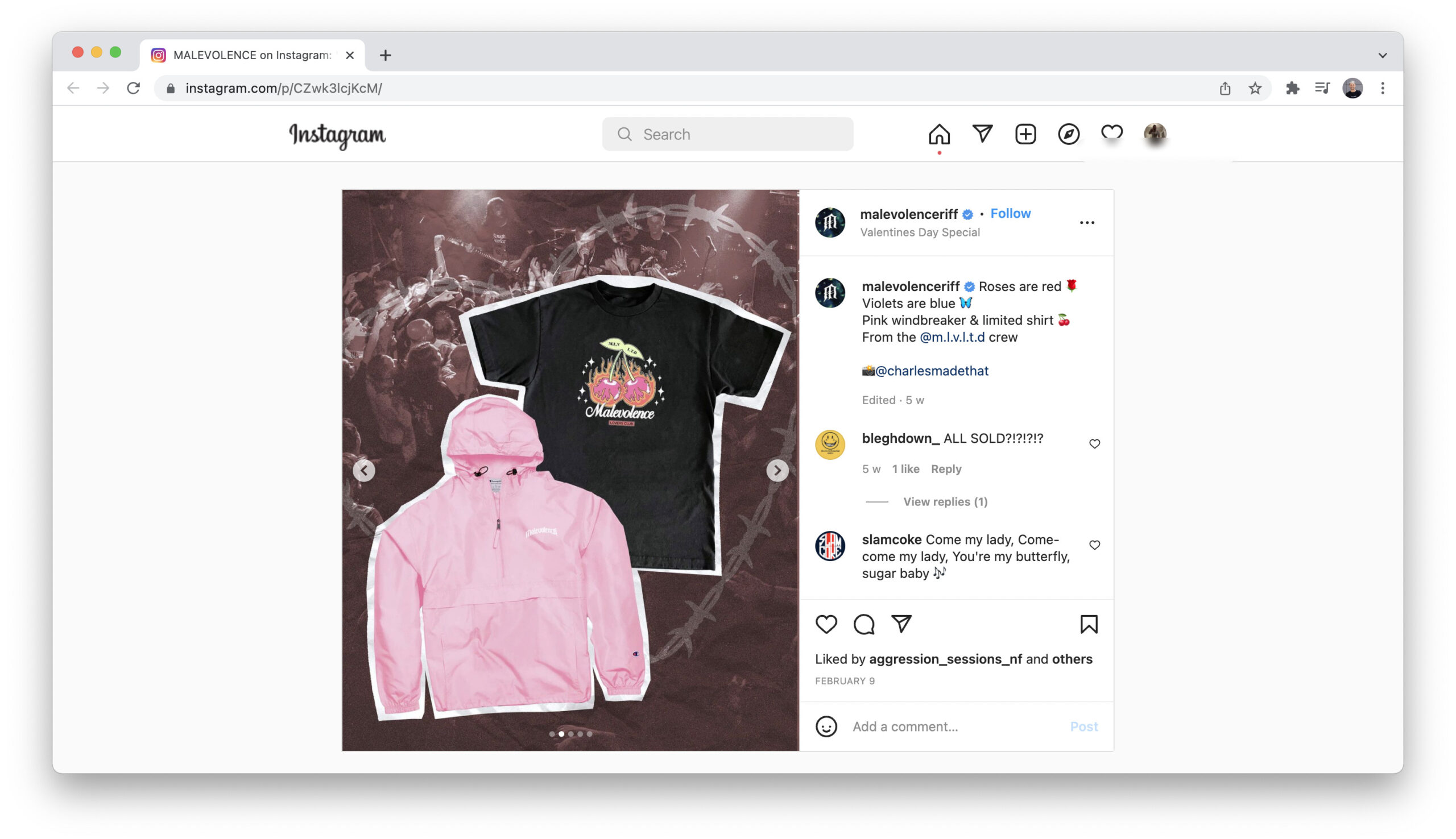 Which brings us to another important aspect of successful merch strategies.
Every day is a merch day
One of the biggest mistakes modern artists make is thinking their merch campaigns should be limited to one of several traditional music marketing events:
Individual gigs and concerts
Large music tours
New music releases
Of course, these events are important merch moments, and they shouldn't be ignored. However, if you're looking to create a scalable and sustainable revenue stream through merch, you'll need to change your merch mindset.
Because every day is a potential merch day. If you're using a service like Fanbace, which offers global Merch on Demand, and lets you upload artwork in a matter of seconds, there's no limits nor risk to what you can do.
Any creative idea, unique occasion, cultural event or new design offers the opportunity to delight your loyal fans with a new collection of merch. Since you're not investing in stock and only printing what gets sold, you could literally do this any day of the week.
Identifying the right merch moments
Simply identify a merch moment you feel passionate about and prepare accordingly. For instance, you could consider creating new merchandise for:
The anniversary of your band
The anniversary of an album or single release
A recurring merch mini-collection, for instance, every 2 weeks
New colour ranges of previously released items
Seasonal merch, e.g. t-shirts in spring and hoodies in autumn
Specific events, like the Valentine's day example we mentioned
Offering new pieces of merch regularly keeps your collection alive and appealing. This means you keep your fanbase's interest and give them plenty of opportunities to show their support for you as an artist.
Need help setting up a successful merch strategy? Get in touch – we'd be happy to help you out. You should definitely try to experience our self-serve Merch on Demand platform. You'll be surprised how easy it is to get started.